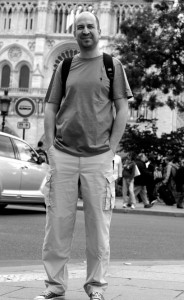 Rareș Petrișor briefly: I write about what I feel and think. When I feel it.
Journalist and writer: have been working as a reporter and anchor from '91 until 2002 for print, TV and radio. War correspondent in former Yugoslavia in 1996 and 1999.
Story lover: Middle East – been to Israel, Gaza, West Bank, other Palestinian territories, Liban, Siria, Kuweit.
Diplomat: in London, for a couple of years.
Photographer: I think about myself as an advanced beginner.
I always ask more from myself.
If you have something to say to me, try rares at pushthebutton.ro
Follow me on twitter or find me on facebook.
About copyright: all the texts and photographs published on pushthebutton.ro are my personal work and they are subject to copyright. Please ask for anything: I will be happy to share.